Sep - 05
2018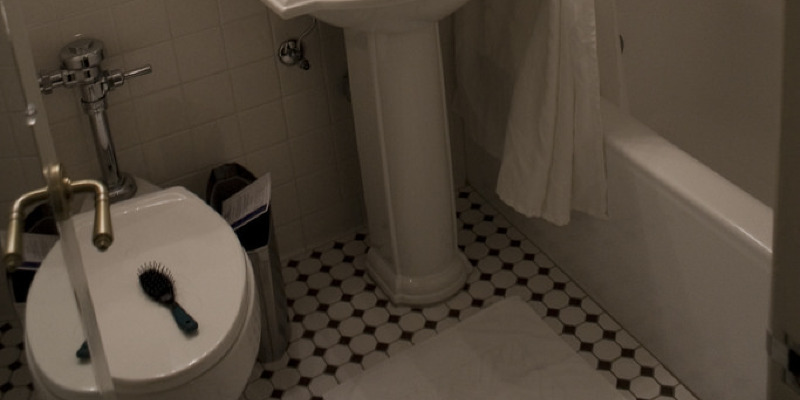 Idea of the Week: Crucial TV From the Tub
If you have a bath tub with this setup, odds are you will not ever want to get out. Tucked within a cozy alcove, creamy marble, a gorgeous wall mural, and vintage-looking fixtures combine to produce the perfect image of refinement. This luxurious bathroom is part of designer Skip Sroka's house in Washington D.C. Although the entire area is a jaw-dropper, what really caught our eye was the key nook Sroka built for a small TV — a guilty bath-time pleasure.
More: Dream Tubs for Bath Lovers
Sroka Design, Inc..
This clever hiding place is really an incredibly easy DIY. Sroka loves to read in the bathtub, so putting bookshelves from the alcove is crucial. "I needed to relive the library seem of this bookcases, so I inserted that the architectural prints into the middle of every bookcase in order to add depth of atmosphere," he says. Since he already knew that he wanted to set a TV on the shelf (it'd already been wired accordingly), Sroka decided to work together with the placement of the photos to discretely hide the TV. Sroka did so part of the setup himself — he just screwed hinges into the frame, then screwed another halves into the bookcases.
Sroka Design, Inc..
Of course, its rewarding to discuss the remainder of this gorgeous bath market. The gorgeous mural is an antique Dufour hand-blocked mural that Sroka had removed from a classic house and installed in this area. "What's wonderful about these murals, is that they're scenes of America made by a French man who never set foot in this country," says Sroka. "So once you take a look at the mural there are people of all races living together as one society. Though it's not accurate, it's a lovely idea."
Sroka decided to place his bathtub in this alcove, since he did not want to have to put it underneath the main window in the room and deal with privacy problems. This corner has been built, together with the shower to one side, the area entrance on the other side, and a separate room for the bathroom just past the shower.
More: TVs at the Kitchen
Browse more bathrooms
Ideas of the Week:
Customizable Dish Drawer
Make a Mirrored Faux Window
Driftwood Mantle