Oct - 13
2018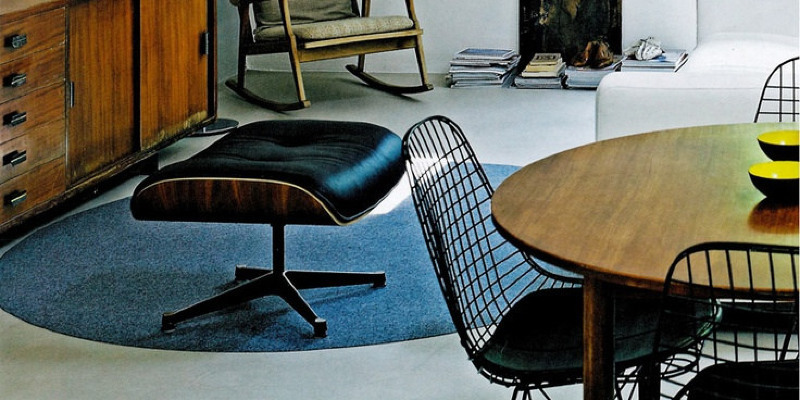 Guest Picks: Aqua and Red Kitchen Accessories
Whether sparse splashes of colour against mostly neutrals or a space awash with bright patterns and colors, I'm a firm believer that kitchens need to be more lively. And the clean, vibrant combination of red and aqua just screams "kitchen" to me personally. Better still, this color duo would fit beautifully in both of the aforementioned situations — contrary to neutrals, or (such as my kitchen) blended with limes, orange, yellow and other crazy colours.
— Meaghan from The Decorated Cookie
Target
Retro Kitchen Wall Clock, Red – $24.59
A classic, retro, reddish clock hanging above the door is a must for any kitchen. One might assert that the microwave, oven and maybe even toaster oven and coffee maker tell you the time already, but I stand by my declaration.
Sarah's Stands
14″ Cake Stand, Sea of Love – $145
While this stunning cake rack is much more than I could afford for everyday usage, given that it's handmade with sustainable soft maple wood, I know the price tag. If I did own this stand, I'd take advantage of every penny and would use it all of the time. I would keep this in my kitchen counter to corral those pesky, random pieces that end up all over the kitchen (my olive oil, the butter dish, salt and pepper shakers, whatever).
Anthropologie
Tea And Toast Butter Dish, Bright Red – $12
Remember way back when people did not worry about things such as leaving out butter all day on the kitchen counter? I was raised using a pig butter dish sitting on mine, but that one will do for my aqua and red kitchen.
Bloomingdale's
KitchenAid "Artisan" 5 Quart Tilt Head Stand Mixer, Aqua Sky – $375
This is the one! This is precisely the KitchenAid mixer that I want. Sure KitchenAids last forever, and also the one I have runs after 20 decades, so that I can't really warrant a new purchase. However, I did lose one of those knobs? And, um, this one is a little larger? Additionally, it has that flour guard. Plus it would suit my kitchen perfectly.
Brookstone
Crosley 302 Wall Phone, Red – $49.95
No kitchen is complete without a telephone hanging on the wall — particularly the type with the long wavy cable pulled taut when you walk into the family room to hand your sister the telephone.
Big Chill
Retro Refrigerator, Beach Blue
This is just like the one in "I Love Lucy." It's beyond my budget, but I do like looking at it. Perhaps some day when I'm rich and famous, I'll have a vacation home using a retro-fitted kitchen.
Kikkerland Design
Magnetic Kitchen Timer, Light Blue – $17
I actually have this timer. Sure my oven comes with one, as does my microwave, but how could I resist the classic charm? Obviously, with my stainless steel fridge, I have this timer delicately balanced on both inches of space on the side of the fridge sticking from the wall.
Crate&Barrel
Chantal® Red Bridge Tea Kettle – $39.95
I'm only an occasional tea drinker, but I'm a daily (um, several times daily) coffee drinker — French press only. I have water boiling, and I have my teapot on the stove. Hence, it must be in a bright colour. I think that it's a guideline.
Barn Light Electric Company
Benjamin® Bomber Porcelain Stem Mount Light – $197
I need to substitute pretty much every inefficient, historical, outdated light fixture in my fixer-upper house. Yay, one would think, new light, new ceiling fans! But there are several fantastic possibilities, I can't choose! I have been stuck with my inefficient outdated lights because of indecision. I love this one for your own kitchen — and it comes from red too!
Williams-Sonoma
Oval Stoneware Bread Basket, Red – $49
I own this specific bread basket in white, and that I use it for each vacation. It's super sturdy and pretty to boot.
Bed Bath & Beyond
Spello Arabesque Aqua Indoor/Outdoor Rug – $43.99
I have been somewhat obsessed with trying to find a good area rug for the kitchen sink area, one that is going to stand up to repeated washing (I spill a lot).
Society Social
The Dinner Party, Red – $549
How crazy is that? This table folds down to seven inches broad. I can't even fathom how that is possible. Although, after residing in a studio apartment for years, I love whatever conserves space.
Anthropologie
Curvy Chrysanthemum Vase – $28
While vases do not scream "kitchen," once I purchase new flowers I always, always place some of them at the kitchen also. This is somewhat fancier than my standard mason jar vase.
The Container Store
Sparrow Key Ring – $14.99
Given my husband's penchant for losing keys, I bought two of these for the wall. Walk in door, put bird in his house, never lose keys — at least that is the theory.
Amazon
Calypso Basics 5-quart Powder Coated Colander, Turquoise – $18.73
I don't use my turquoise colander for draining. I keep it on the counter for apples and bananas and items. I then dig out my 20-year-old, unsightly colander from the cabinet for pasta.
Fishs Eddy
Symmetry Red Dishtowel – $7.95
Rather than cafe curtains in my kitchen, I got tension rods and clips and only used dish towels. As a bonus, even if all the towels are from the washing machine, then you are able to dry your hands on the drapes — not that I do this.
Urban Outfitters
Medallion Knob, Turquoise – $6
These may be too complicated and stunning for my kitchen (sigh), but I love these knobs. And they come in red also.
The Curiosity Shoppe
Superior Server Holiday Place – $120
Whenever I host a party or dinner, I never , ever have sufficient utensils for serving. Obviously, I never , ever remember this until I'm actually serving, and then promptly forget the next day. Note to self: buy these outsized serving utensils.
The Home Depot
Classic Farberware 12 Piece Nonstick Cookware Set, Turquoise – $99.99
I simply love this colour. I bought a few cheap, turquoise skillets at HomeGoods that I hang my kitchen on hooks. They are decorative and practical space-savers.
House 8810
Swell Pot Holder Set – $24
I love the classic feel of these potholders. I have some similar types dangling out of my cabinet knobs beside the oven. Textiles are a great way to add warmth and keep with the aqua and red color scheme.
Next: Favorite Color Combinations: Turquoise and Red