Nov - 20
2018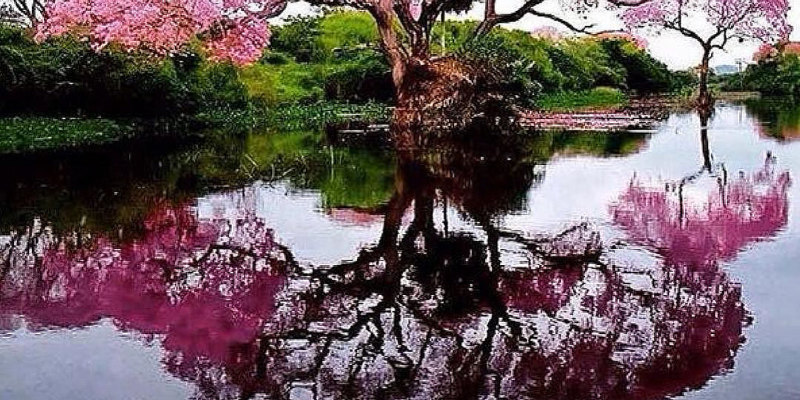 Spring Fling: See a Garden in Full Glory
This week I braved the record pollen count to enjoy the spring flowers at one of my favourite areas, The Atlanta Botanical Garden. Daffodils and tulips popped up early this year, as did dogwoods, azaleas, hyacinths, hellebores, redbuds and some viburnum blossoms, amongst others. This left for a visit that has been worth my wheezes on a glorious 80-degree day. If you're in our fair town, I recommend a visit. If not, here's a virtual one.
Spring sprang early this year; here in Atlanta we're about three weeks before blossom time. Though the Dogwood Festival probably won't have any dogwood blooms to celebrate, it is a real treat to enjoy them now before it becomes humid.
The gardens are considerably more extensive than when I moved here 10 decades ago. During the growth, the designers required to make up for impermeable surfaces by the new construction. Thus there are plenty of smart moves all around, from a permeable grass road that's wide enough for emergency vehicles for the green roof atop the supermarket.
Upon entering the gardens, one is greeted with this view. At the moment the cosmetic understory is in its full glory, with the dogwoods in their peak and a carpet of daffodils, tulips and azaleas beneath.
I always opt to head to the right and struck the brand new canopy walk.
The brand new canopy walk is breathtaking. Suspended through some kind of awesome engineering I'll never understand, it takes visitors right into the canopy of Storza Woods. As you walk it, then you're up in the trees and close to the base of their canopies.
The furniture in the backyard is artful and provides a place to pause and enjoy the environment. At the time of year, you may have a coat of yellow dust on your bum when you get up.
We arrive in the Cascades Garden after finishing the canopy walk. The old entrance road used to curve up this place, right up the terraces of this fountain. You would never know it now.
Zoom on this gorgeous mature dogwood
After you ascend out of the woodland gardens, a lush area of tulips welcomes you to the campus, including a snack bar with dee-lish treats and a library and classrooms.
After stopping off to get a new turkey and havarti sandwich in the snack bar, you come out to the parterre, where boxwoods ring crepe myrtles that spring out of beds of tulips. The organic forms of crepe myrtles are so beautiful; I'll never understand why folks give them these bizarre and severe pruning tasks. Their lovely bark and sculptural silhouettes provide interest all year long, even without flowers or leaves.
The blue glass sculpture in the background is by Dale Chihuly.
The skyscrapers of midtown Altanta pop up outside the tulip border backyard. The colour palette of green, deep purple and white is so lovely; borrow this idea for your backyard or a room in your home.
A spectacular alleé of crepe myrtles encompasses a path between the great lawn and the campus buildings.
Smaller backyard rooms are a part of the original gardens, and sinuous paths lead you from one to the next. The pink flowering trees are Piedmont azaleas.
This whimsical garden gate is by Andrew T. Crawford. The gardens will comprise more of Crawford's gates through April; he'll guide a tour of these on April 17, 2012. Make a booking
This intriguing flowering shrub is a Chinese fringe flower.
Get a closer look in the bloom
1 thing I love about the backyard is that when you're standing around wondering what some plant is and you can not find a sign, the friendly backyard pros will allow you to know. This gardener identified this shrub for a Styrax Japonica, or Japanese snowbell tree.
Until this visit, I had been unfamiliar with all the Piedmont azalea, that has a feathery flower and reminded me of witch hazel left in pink.
This is the biggest crepe myrtle I've ever observed. I requested this 6-foot-4-inch-tall guy to function as a living-scale figure to show you exactly how big it is. He agreed to do it since he is my daddy.
Creeping phlox produces a colorful ground cover.
A Japanese snowball viburnum reach its peak this week.
A smoke shrub spreads its sculptural branches within an area of white, light purple and pink tulips.
Canadian columbine in a fiery orange had popped up to say hello.
Vibrant mustard greens complement bull's blood beets in the relatively new edible gardens. Pansies add a second wave of blooms below. The waves of contrasting stripes add a design element not often seen in gardens that are edible. Other neat things in the edible section are organizing signals with recipes on them.
Oh, of course I got a close-up of this wilted mustard greens recipe for you; don't be foolish!
An ornamental orchard of Calloway crab apple trees provides a transitional space between the ornamental gardens and the gardens that are edible. They are just starting to leaf out.
Is anything blooming in your neck of the woods? Let us know where you are and what you're seeing in the Remarks section below.
More:
Garden Tour: Edith Wharton's The Mount
Spring Planting: Beautiful Wisteria
Landscape Tour: Two Acres of Rural Hillside in Maine